If you're ready to book, Contact Us.


7 Night Eastern Caribbean Cruise
Ship:
We're cruising on Royal Caribbean's brand new ship (maiden voyage Jan 2024) Icon of the Seas!
If you haven't seen this ship yet, check out the "First Look" video from the Royal Caribbean blog and check out Icon of the Seas - Deck Plans here. We worked with Royal Caribbean and Cruise Holidays to create this cruise for "The Fun Bunch" (you know who you are ;-).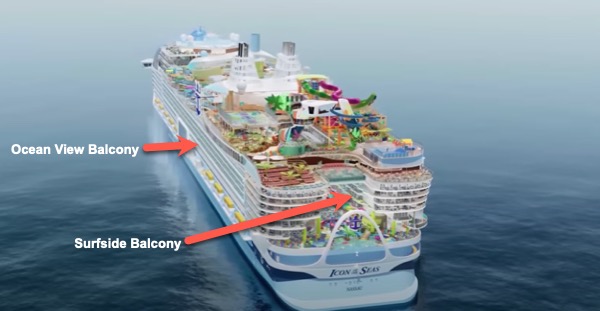 Here are the cruise details:
Cruise line: Royal Caribbean®
Cruise Length: 7 Nights
Ship Name: Icon of the Seas
Port: Miami, Florida
Departure Date: Saturday, Oct 19, 2024, 4:30pm (EST)
Return Date: Saturday, Oct 26, 2024, 6:15am (EST)
Ports:

Philipsburg, St Maarten - 8:00am-6:00pm
Charlotte Amalie, St. Thomas - 7:00am-3:00pm
Perfect Day at CocoCay, Bahamas - 9:00am-5:00pm

Early Dining
​
Now, the Money Part:
Each Ocean View dual-occupancy cabin with taxes, port fees, and gratuities is about $3,900.
Book your cabin with 100% refundable deposit of $500, balance is due in full on July 21st, 2024.
$100

onboard credit for each Ocean View Balcony Cabin

​
We'll be hangin' out on the starboard side of Deck 14 in both Ocean View and Surfside cabins... ​

Air
You are responsible for your air travel plans. Most of us from the West coast plan to fly Alaska Airlines to Miami (MIA) on Friday, October 18th, 2024.
Hotel
A Hotel group discount will be available soon.
Cruise Insurance (optional):
If you choose to obtain cruise insurance just let Judy know.
​
Port Transfers (Ground Transportation):
The transfer costs are about $40 / person, round trip. There are two ground transfers:
To Ship: SAT OCT 19th, 2024 - Group hotel to cruise port
To Airport on Departure: SAT OCT 26th, 2024 - Cruise port to MIA airport
Cruise Travel Advisory for US Citizens:
Protocols Update: Vaccination and testing no longer required for most guests.
All US citizens are required to carry a passport when entering the United States. If you don't already have one you can apply at your local post office. To learn more about the process, you can follow this link to the Passport Application process. Costco can help you with your passport photo for about $5.00.

One thing we know for sure… this will be a fun one!
If you have any questions or would like to join us, please call Judy at (800)826-8221 from our friends at Cruise Holidays of Palm Springs.
​