What to bring on a Caribbean Cruise?
We put together a Caribbean Cruise packing list and tips that we hope you'll find helpful when your packing for your Caribbean Cruise.
Cruise Carry on Bag:
Checklist includes:
basic toiletry items
travel docks
photo ID
passport
prescription medication(in original bottles) and/or additional over-the-counter meds such as aspirin.
Also, include a change of clothes, bathing suit, workout clothes and shoes. It's nice to have a carry-on "backup" in the event of a luggage mishap. Plus, not having to wait for your luggage to arrive at your stateroom allows you to "start cruising sooner"!
Cruise Onboard Attire:
Shorts, t-shirts, slacks, trousers, casual skirts, blouses and sundresses are all perfect during the day, whether indoors or out.
For lounging by the pool, pack two bathing suits (an extra suit in case the other is wet) and a pair of casual shoes (i.e, flip-flops, sneakers, sandals). You'll also need some casual shorts and a couple of t-shirts or a cover-up for getting to and from pool areas.
If you're planning to visit the fitness center (onboard), be sure to bring extra shorts, t-shirts, and socks that you won't mind working out in - including a pair of tennis, sneakers, or running shoes.
If you're planning to ice skate on the Voyager, Freedom, or Oasis Class ships, be sure to bring long pants and socks. All skaters are required to wear long pants and socks for their own comfort and safety.
Pack lighter by sticking with a color theme that you can mix & match. You might re-wear bottoms with different tops, or bring a shirt that can be dressed up for dinner one night and then worn the next day as a casual top.
Dress in layers for the different temperatures. Outside can be blistering hot while inside with the air conditioner running, it can be a bit chilly. A cardigan can double as a jacket to keep your arms warm while wearing those sleeveless evening gowns during dinner and to have a blanket on long flights.
Try to bring shoes that serve multiple purposes or that can be worn with multiple outfits so you don't end up with a suitcase full of them.
Cruise Dinner Attire:
7-nights= 4 casual, 1 smart casual, and 2 formal
Men can wear a dark (black is dressy) business suit jacket, slacks, shirt, and tie, or dress shirt that doesn't require a tie.
Shhhh.... don't tell anyone, but some of the guys (like Mark Knowles) will wear black slippers for dress shoes since they are lightweight and pack easily. Guys can also rent a tuxedo onboard, but only if they so desire (not necessary).
Women can bring one basic "black" dress and use different accessories to change it up a bit, creating a whole new outfit for the second formal night. An evening purse is optional but remember your shoes.
Cruise packing checklist for Men & Women:
Travel documents (Including passport/ I.D.)
Mark/weight packed luggage (see cruise packing tips column)
Carry on bag (see details above)
Duffel bag - one that folds easily into your larger suitcase to use if needed for souvenirs, dirty laundry, etc... (Mark/label with contact information)
$1 - $5 dollar bills for tipping (see cruise packing tips column)
Prescription medications (original bottles)
Over-the-counter meds: Aspirin, Pepto, etc..
Day bag or backpack
Book or Kindle (optional)
Sunscreen, hat, sunglasses, and/or bug repellent
Camera/Underwater camera (charger/batteries/memory cards)
Power strips to charge your electronics (optional)
Water bottle (collapsible - optional)
Ziplock baggies for transporting liquids or wet things.
Snorkeling equipment (optional)
Light jacket, windbreaker and/or rain poncho
Toiletries (liquids must be 3 oz. or less and fit into a quart size ziplock baggie): Contacts (spares?), solution, glasses, shampoo, conditioner, body soap, deodorant, toothpaste, toothbrush, razor, etc...
Sewing kit/ Mini lint remover
Pillow (if you can't live without it!)
Earplugs (optional)
Swimming suits
Shoes: evening/dress, sandal/flip flops, water, workout, walking, sneakers, etc...(see details above)
Socks
PJ's

More Money - Fewer Clothes!
Women (additional cruise packing items):
Makeup
Curling irons
Jewelry, scarfs, belts, and other accessories, etc..
Swimming suit cover-up
Shorts for during the day (4+)
Short sleeve tee, tops, and/or blouses for during the day (7+)
Casual dress pants, skirts, and/or dresses for evening dining (4+)
Casual tops if wearing dress pants or skirts for evening dining (4+)
Formal evening attire (2+) - (see details above)
Undergarments (Nylons, slips, etc...)
Men (additional cruise packing items):
Ties, belts, and other accessories, etc...
Shorts for during the day (4+)
Short sleeve tees/shirts for during the day (7+)
Casual dress pants for evening dining (2+)
Casual dress shirts with collar (i.e. "Polo") for evening dining (4+)
Formal evening attire (2+) - (See details above)
Undergarments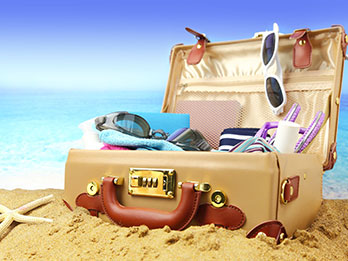 Cruise Packing Tips
Be sure to check your airline's luggage weight limit before arriving at the airport (overweight = extra fee).
Mark your luggage well with a bright ribbon or something that catches your eye. It is also a good idea to put a sheet with your name and other contact information inside each piece of luggage.
Remember your passport, ID, and other travel documents are very important. Passports are recommended but check with the cruise line to know what is required. Also, know what's required to re-board the ship when visiting the different ports. People have been turned away from the pier for only providing a "copy" of their birth certificate and not the original. Never pack these documents in your checked luggage.
Acquire any necessary visas and/or immunizations required for your cruising region. Keep them with you.
It's easier to do your cruise pre-registration "on-line" before leaving home. Prior to boarding, you'll receive a type of "ship credit card" since cash is not accepted for onboard purchases.
You will need cash for port days: transportation, souvenirs, activities, etc...
$1 - $5 bills are good to carry for tipping. This makes life a lot easier - not having to wait for change or make a change. Plus, sometimes in other countries, they amazingly don't have change...
The ship supplies: a safe in each room, a hairdryer, body soap, shampoo, and towels. Note - a hairdryer is usually weak and the soaps are typically generic, so if you're picky, bring your own.
All carry-on liquids must be 3 oz. or less, and ALL must be able to fit into a quart size ziplock baggie (you'll have to remove this from your carry-on when going through security).
To get through the airport security quickly, wear shoes and jewelry that are easy to remove, check pockets ahead of time to be sure nothing will trigger the alarm, and make sure you can easily remove your computer (if you take one).
If you bring a cell phone, make sure you don't incur roaming charges by leaving it "On" in foreign waters.
We have traveled with friends that have used the "Relief Band" as a drug-free way of dealing with motion sickness. The results have been outstanding.